Dec 18, 2017


Report on Taipei International Industrial Automation Exhibition 2017 (September 6 to 11, 2017)
The MMA participated in the Taipei International Industrial Automation Exhibition 2017 held at the Taipei World Trade Center Nangang Exhibition Hall (TWTC Nangang) from September 6 (Wed) to 11 (Sat), 2017.
At the MMA booth, we installed the newest panel prepared in Japan facing the main passage to showcase the excellent connectivity of MECHATROLINK. The appealing content of the exhibit, diverse product lineup, and presentation videos caught the attention of many visitors who stopped by the MMA booth. In preparation for the 15th anniversary milestone of MECHATROLINK in January 2018, we designed an original logo for MECHATROLINK, which helped give prominent coverage to MECHATROLINK. Additionally, we played a video to show the achievements and growth of MECHATROLINK over the past 15 years.
The MMA members who participated in this exhibition set up individual booths to introduce their MECHATROLINK-compliant products and demonstrate the capabilities of each product.
During the 4-day exhibition, over 2100 people visited the MMA booth.
The MMA will continue its promotional activities to further promote MECHATROLINK in Taiwan.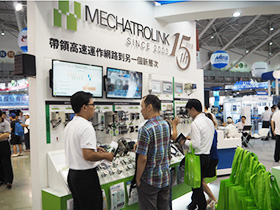 MMA booth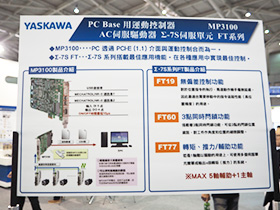 Individual presentations of MECHATROLINK
by MMA members