Nov 20, 2019


Exhibition to SPS2019 in Germany (November 26 to 28, 2019)
We invite you to join us at SPS/IPC/Drives 2019. Get your free tickets and visit us in Hall 5, Stand 415.
A Smart Factory application demonstration of MECHATROLINK (OT) meeting OPC UA (IT), inside a fully operational industrial automation test-bed lab linking the deterministic power of MECHATROLINK and the information about its devices to the cloud of information via OPC UA. We demonstrate an active bi-directional control SCADA system, connected to the cloud pulling information from the MECHATROLINK Lab assets in Eschborn. This Lab demonstrates both Motion Control and Robotics capabilities of MECHATROLINK.
∑-LINK II is a standalone high speed fieldbus that enables daisy chaining of encoders, sensors, and I/Os. It acts as deterministic extension of MECHATROLINK down to the sensor and actuator level. We will demonstrate data collection of encoders and sensors and transferring this information via MECHATROLINK-4 to the Host Controller.
FREE tickets are available. Please click here and enter the MMA Registration Number: 1812301064.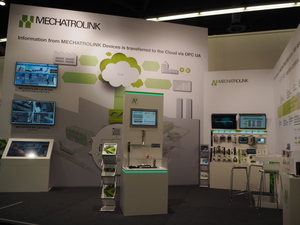 MMA booth of last year