High-Accuracy Position Sensors K1G-C04M

Slave 感應器

MECHATROLINK Spec
阿自倍爾株式會社Updated on:Apr 4, 2019
The controller, K1G-C04M supports MECHATROLINK-Ⅲ.
It achieves high-speed at a baud rate of 100 Mbps and high-reliability communications, furthermore, realizes the synchronous communication.
Only two wires are required between the PC/PLC and the K1G-C04M for wiring. You can reduce greatly wiring time and save space.
Using the Pro-face GP4000 series allows the setting and checking of a parameters used by the K1G series.
The Pro-face Remote HMI allows the setting and checking of parameters using a Wi-Fi-equipped tablet.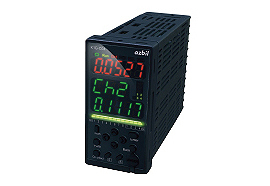 K1G-C04M
Download
Specifications
Catalog listing
K1G-C04/K1G-C04G
K1G-C04M/K1G-C04MG
Compatible sensor
K1G-S□□
Max. number of connected sensors
4
Reading
Min. display unit
0.1 μm
Display range
With K1G-S07
0 to 7 mm -3.5 to +3.5mm can be selected
With K1G-S15
0 to 15 mm -7.5 to +7.5mm can be selected
Measurement cycle
(Output update cycle)
250μm/500μm/1ms (switchover)
Analog output
4 outputs: 4-20 mA or 1-5 V
(all outputs are switched over at once)
-
Digital output
8 outputs: NPN or PNP transistor
(all outputs are switched over at once)
-
Digital input
4 inputs: non-voltage contacts and NPN or PNP open collector (all points are switched over at once)
-
Communications
RS-485 (Modbus RTU)
MECHATROLINK-Ⅲ
Supply power
DC12 to 24±10%
Operating temperature
0 to 50°C (0 to 35°C if gang-mounted)
Storage temperature
-20 to 70°C (without freezing)
Operating humidity
30 to 85 % RH (without condensation)
Vibration resistance
2m/s2 (10 to 60 Hz), 2 h each in X, Y, and Z directions
Protection circuit
Power reverse connection protection
MECHATROLINK specifications
| | M-Ⅲ |
| --- | --- |
| Profile | Standard I/O |
| Data size | 32byte, 48byte |
| Transmission cycle | 0.25/0.5/1-64 ms [Selectable by 0.5ms] |
Contact Information
Azbil Corporation Advanced Automation Company
Marketing Dept., Sensor Group2
1-12-2, Kawana, Fujisawa-shi, Kanagawa-ken, 251-8522, Japan
TEL: +81-466-20-2232 FAX: +81-466-20-2193
E-mail:n.kiire.uf@azbil.comURL:http://www.azbil.com/