GP4000 Series

Peripheral Devices 產業用PC及顯示器

MECHATROLINK Spec
Schneider Electric Japan Holdings Ltd.Updated on:May 9, 2019
GP4000 series offers touch screen displays with extensive simultaneous multi-protocol connectivity.
All models in the GP4000 series feature a power-saving 65,536-color TFT display. We accomplished a maximum reduction in power consumption of 84% (compared to previous 12.1" and 10.4" models when using our lighting adjustment function). Previously only our high-end models had a 65,536-color TFT LCD-now the whole lineup of the GP4000 series adopts the 65,536-color TFT display as a standard feature. This offers higher visibility at production sites, and thus contributes to reducing human errors and oversights, as well as enabling more efficient operation and display.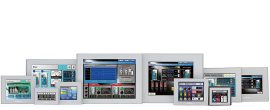 GP4000 Series
Download
Specifications
Standard Model
W Model
Display Size        
3.5" to 12.1"
3.5" to 10.4"
Application Memory
16MB to 32MB
8MB to 16MB
Rated Voltage
DC24V/AC100 to 240V
DC24V
Customizing
Coating: Yes
Color: Yes
Coating: Yes
Color: Yes
Contact Information
Schneider Electric Japan Holdings Ltd.
Schneider Electric Osaka Building, 4-4-9 Kitahama, Chuo-ku, 541-0041 Osaka
TEL: +81-(0)570-056-800 FAX: +81-(0)6-6208-3134
E-mail:support@proface.co.jpURL:https://www.proface.com/