TOYO ELECTRIC CORP. MECHATROLINK-Ⅱ (Under development)

Peripheral Devices 配線用機器

MECHATROLINK Spec
Space Optical Transfer Unit corresponding to MECHATROLINK-Ⅱ.
I realize the reliable wireless communication that was not able to be realized in infrared rays by the wireless communication of the electric wave method.
Space Optical Transfer Unit for MECHATROLINK suggests "the ultimate wiring that can solve problems such as guidance of the wiring or the extension of the communications distance-saving" for the FA device in the next generation.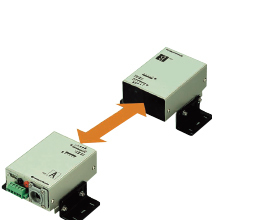 Download
Specifications
| Item | Specifications |
| --- | --- |
| Control method | A Optical repeater by MECHATROLINK-Ⅱ |
| Transmission rate | 10Mbps |
| Power voltage | Rated voltage : 24VDC |
| Connected to | MECHATROLINK-Ⅱ I/F |
| Transmission distance | from 0.2m to 100m |
Note : The sale time / a model / the price is undecided because of a product is under development examination inside now.
Contact Information
TOYO ELECTRIC CORP.
ELECTRIC DEV.
1-39 HIKISAWA KAGIYA-CHO KASUGAI-CITY Aichi, 480-0393, Japan
TEL: +81-568-88-1181 FAX: +81-568-88-3086