MECHATROLINK-Ⅲ Connector KIT P/N 2040008-2

Peripheral Devices 電纜及連接器

MECHATROLINK Spec
TE Connectivity Corporation.Updated on:Apr 4, 2019
Connector Kit specially designed for MECHATROLINK-Ⅲ
The connector for the cable to be applied on one end is packed in a package.
Crimp tool for the shield is available.
A RoHS compliant product.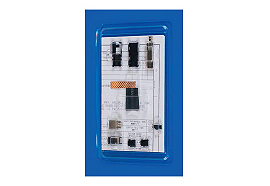 2040008-2
Download
Specifications
• Specially designed for MECHATROLINK-Ⅲ
• Acceptable wire: DYDEN CORPORATION (RS-M 20276 AWG 22/4C).
• Please refer to the instruction sheet 114-5431 for the correct installation of the connector to the cable.
• Mini Press with Die kit P/N 1891800-2 for the shields is also available.
Contact Information
Tyco Electronics Japan G.K.
Communications & Industrial Solutions (CIS)
Japan - Kawasaki
3-5-8 Hisamoto, Takatsuku, Kawasaki City, Kanagawa
TEL: +81-44-844-8111
China - Shanghai

TEL: +86-21-6485-0000
Germany - Bensheim

TEL: +49-6251-133-0
United States - Harrisburg, PA

TEL: +1-717-564-0100
Korea - Seoul

TEL: +82-2-3415-4500
Italy - Torino

TEL: +39-011-401-2111