MECHATROLINK-Ⅲ Network cable

Peripheral Devices 電纜及連接器

MECHATROLINK Spec
PNET/B from JMACS is a industrial Ethernet cable with the necessary shielding and EMI protection for MECHATROLINK-Ⅲ.
1. Transmission characteristic
 ・ISO/IEC11801 (Cat.5), TIA/EIA-568C.2 (Cat.5e)
2. Safety Standard
 ・UL/c-UL Listing (UL444 CM, CSA C22.2 No.214)
3. Environmental Regulation
 ・Lead-Free, Oil and heat resistant PVC jacket
 ・RoHS Directive REACH Regulation (SVHC)
4. Other Features
 ・Excellent flexibility
 ・Length marks imprinted on the cable make measuring easy.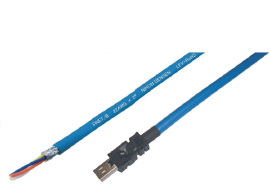 PNET/B
Download
Specifications
| Item | Specifications |
| --- | --- |
| Cross Sectional Area | 22AWG (0.34mm2, Stranded Conductor) |
| No. of core | 2p (4c) |
| Insulation color | White, Yellow, Blue, Orange |
| Shield | AL/PET+Braid |
| Jacket color | Blue |
| Overall diameter (mm) | Approx. 6.5 |
| Approx.Mass (kg/km) | 60 |
| Max.Transmission Distance (m) | 100 |
| Connector | Industrial Mini I/O Connectors, RJ-45 |

Contact Information
JMACS株式会社
總公司 電線營業總部
553-0003 大阪市福島區福島7丁目20番1號 KM西梅田大廈11樓
TEL: +81-6-4796-0080 FAX: +81-6-4796-0090
東京営業所
102-0074 東京都千代田區九段南2丁目4-4 三和九段大廈8樓
TEL: +81-3-3239-5204 FAX: +81-3-3556-1240