2-Phase NanoDrive™ Stepping Motor Driver

Slave 步進馬達驅動器

MECHATROLINK Spec
MYCOM, INC.Updated on:Apr 4, 2019
Nano Resolution up to 200,000 Steps per Revolution.
16 Different Resolution Modes from 1 Full Step to 1/1000th Step.
Event output (hard output) is available at the time of designated pulse attainment.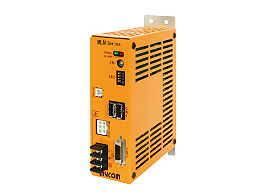 MLN20-110/210
Download
Specifications
Item
Specifications
Network Interface
MECHATROLINK-Ⅰ and MECHATROLINK-Ⅱ
Action function
Fast feeding positioning, Constant feeding, Interpolation feeding, Home searching, External input positioning
Monitor
Current position, Action speed, Encoder counting value, Driver condition
Control function
Near positioning output, Electric gear, Software limit, Auto-backlash correction, Closed control
Input signal I/F
Deceleration limit, Home, Forward rotation prohibition, Reverse rotation prohibition, External clutch (three), Stop
Output signal I/F
Alarm , Brake , Event , SensorOn
Encoder I/F
A/B/Z phases
Applicable motor
2-Phase Stepping Motor
PF264-A (B), PF265-A (B), PF268-A (B), PF464-02A (B), PF466-02A (B), PF468-02A (B)
Resolution
Basic step is divided by: 1, 2, 2.5, 5, 8, 10, 20, 25, 40, 50, 100, 125, 200, 250, 500 or 1000
Driver Type
NanoDrive™, Star Bi-Polar, Constant Current Chopper
Phase Current
MLN20-110 : 1.0A/Phase / MLN20-210 : 2.0A/Phase
Input Voltage
AC 100 to 120V ± 10%
MECHATROLINK specifications
M-Ⅰ
M-Ⅱ
17-byte
17-byte
32-byte
Command
Stepping Motor Drivers
×
×
×
Transmission cycle
2ms
0.5ms to 8ms
Contact Information
MYCOM, INC.
Head Office
1-29, Ohara, Goryo, Nishikyo, Kyoto 651-8245, Japan
TEL: +81-75-382-1580 FAX: +81-75-382-1570
Tokyo Office
1-8 Suda-cho, kanda, Chiyoda-ku, Tokyo 101-0047, Japan
TEL: +81-3-3251-5415 FAX: +81-3-3251-5485
Singapore

TEL: +65-6743-4476 FAX: +65-6743-4576
Taiwan

TEL: +886-2-2778-9021 FAX: +886-2-2778-9750
E-mail:support@mycom-japan.co.jpURL:http://www.mycom-japan.co.jp/