MECHATROLINK-Ⅲ Master / Slave IP core

Peripheral Devices 嵌入式元件

MECHATROLINK Spec
Tokyo Electron Device Ltd.Updated on:Apr 4, 2019
MECHATROLINK-Ⅲ is a communication standard meets the demands of the motion field network market that required higher transmission speed, transmission cycle, transmission distance, maximum slave number, more than ever.
By adopting this IP core provided by Tokyo Electron Device Co., Ltd. for Xilinx's FPGA enables to reduce number of parts, development cost and development period greatly.
Master function or Slave function
Built-in CPU in FPGA enables to perform intelligent function using RTOS with one chip
Synchronized to a clock of up to 66 MHz, connectable to a high-speed synchronous bus such as PCI without reduced throughput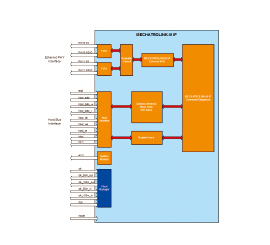 Download
Specification
Item
Specifications
Target FPGA
Xilinx Spartan®-6 LX FPGA / Spartan-6 LXT FPGA / Zynq®-7000 SoC
Network Interface
MECHATROLINK-Ⅲ Network ×2 port (MⅡ I/F 100Mbps Full Duplex designated)
Host Interface
32bit shared memory interface / 32bit register interface
Host Interrupt
2 level Interrupt request output
Host Interface Byte Order
Little endian
Product Type
TIP-ML3MST-S6/7Z-PROJ (MECHATROLINK-Ⅲ Master Dedicated IP)
TIP-ML3SLV-S6/7Z-PROJ (MECHATROLINK-Ⅲ Slave Dedicated IP)
Attention
To purchase this LSI, it is necessary to join the MECHATROLINK Members Association (MMA) with Board, Executive, Regular Membership.