PLC Motion Controller

Master 控制器

Category:
(★)

MECHATROLINK Spec
It is a motion controller with built-in PLC (FA-M3 made of Yokogawa Electric Corporation). It is a standalone type, and it controls NC and robot without the load of the ladder.It integrates the exact motion functions such as multi axes interpolation, synchronous control, contouring and electronic cam.It is possible to connect with PC easily, and the operation is possible from EXCEL and VB software by DLL application.It can be operated from the PLC ladder, then PC/PLC/MC operate jointly.Moreover, one PLC can easily do the line controls of the transportation, the processing, assembly, and the inspection, etc. by the parallel run of PLMC.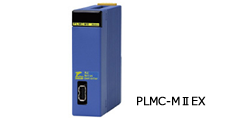 Download
Application examples
Multi axes control, Robot control (Scalar, link and parallel), Semiconductor manufacturing equipment, High-speed press (Servo press and Feeder), Machining, Grinding, Bending, Cutting (Glass, Cloth, Rubber and metal), Spooling machine, Electronic cam, Handling machine, DNC processing machine, Metal processing machine, Optical forming, Transportation machine and Packaging machine
Specifications
| Item | Specifications |
| --- | --- |
| Number of controlled axes | Standard: 4 or 9 axes (Exclusive: 15 axes) |
| Axis control functions | Spindle (SPIN), Same command for 2 axes (Parallel axes), Tangent control, Rotary axis surroundings processing (Infinity rotation), Flexible electronic cam, Axis unit system conversion, Sensor latch, and Diameter command (Lathe specification) |
| Accel./decel. control | Linear type, Exponential type and S character type |
| Axis command | Positioning, Linear interpolation, Circular interpolation, Helical interpolation, Point positioning, Torque command and Independent multi axes control |
| IO command | Output ON/OFF, M code, and Input judgment |
| Other command | Timer, JMP, and Logical origin setting |
| Coordinate system | Logical coordinates and Machine coordinates |
| Contouring | Path operation (No stop between blocks), Continuous operation of minute interpolations and Form compensation |
| Compensation functions | BL compensation, PE compensation, Tool length/Tool diameter compensation |
| Network | Ethernet connection (By way of PLC) |
| PC communication | DLL connection (By way of PLC), Standard operation software and DLL |
| Ladder operation | It instructs and controls all functionses of PLMC from the ladder. |
| A large amount of data | Dynamic data loading (PLC) |
| Operation language | G code, Techno code, Subprogram and Times specification CALL |
| Operation | Manual operation, Memory operation, teaching and DNC operation (PC/PLC) |
| Multitasking | Mastering, Slave, Reset, Background, EXIT and Alarm |
| Macro-function | Variable, Arithmetic operation, and Condition judgment |
| Input processing (By way of PLC) | Emergency stop, ONSW, Origin (Each axis), Logical origin setting, General purpose inputs (Ri0-48), Handle palser axis selection, Handle palser magnification, Override function, Operation mode, Effective/invalid of panel, Axis operation (Bit/code specification), and Program selection |
| M-Ⅱ input | Servo alarm and Over travel (Each axis) |
| Output control (By way of PLC) | SVM (Servo main power supply), ALARM, INPOS, READY, RUN, PAUSE, PRDY, MODE 0-2 (Mode output), Spindle control, General purpose outputs (Ro0-63) |
| M-Ⅱ output | Servo ON (Each axis) and Servo reset (Each axis) |
| Operation panel (By way of PLC) | Various automatic/manual operations and Override |
| Axis operation analysis | Time series loging of multi axes |
| Exclusive use | Coordinates conversion (Link and parallel) and Others |
| MECHATROLINK connection | Σ servo, MYVIS (Image processing system), Spindle inverter |
MECHATROLINK specifications
M-Ⅰ
M-Ⅱ
17-byte
17-byte
32-byte
Command
Servo
-
×
×
Stepping Motor Drivers
-
-
-
Intelligent I/O
-
-
-
Simple I/O
-
-
-
Inverter
-
-
-
Transmission cycle
0.5ms to 4ms
Contact Information
TECHNO CO., LTD.
1304-5 Shimofujisawa, Iruma, Saitama, 358-0011 Japan
TEL: +81-4-2964-3677 FAX: +81-4-2964-3322
E-mail:mail@open-mc.comURL:http://www.open-mc.com