Stepping Motor α STEP AZ Series Axes Driver MECHATROLINK-Ⅲ Compatible

Slave Stepping Motor Drive

MECHATROLINK Spec
ORIENTAL MOTOR Co.,Ltd.Updated on:Jan 5, 2022
MECHATROLINK-III compatible multi-axis driver to which 2, 3, and 4 axes can be connected.

A motor based on a stepper motor that performs a unique hybrid control combining the benefits of open loop control and closed loop control.

The motor is equipped with a battery-less multi-rotation absolute encoder. Various merits include operation without a battery, return-to-home or external sensors.

Temperature and travel amount can be monitored in addition to basic information such as motor position, speed and load. This information can be used for monitoring status and predictive maintenance of machines.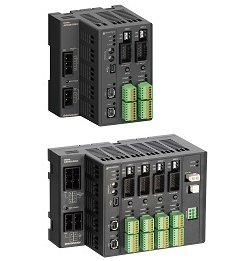 αSTEP AZ Series
Download
Specifications
Item
Specifications
MECHATROLINK communications
Protocol
MECHATROLINK-Ⅲ
Baud Rate
100Mbps
Transmission cycle
0.5ms, 1.0ms, 2.0ms, 4.0ms
Communication cycle
0.5ms to 32ms (increments of 0.5ms)
Node address
03h to EFh (initial value: 03h)
※AS for the master controller, extended address-compliant is required.
Command method (Operation function)
Interpolation feed (INTERPOLATE), Positioning (POSING), Constant-speed feed (FEED), Positioning at Constant-speed by external input (EX_FEED), Positioning by external input (EX_POSING), Return-to-home (ZRET)
Monitor
Command position, Command speed, Feedback position, Feedback speed, Alarm code, Status of driver
I/O signals
Input signal
Input: 4 points (Signal allocation can be changed)
Forward drive prohibition Input (FW-BLK), Reverse drive prohibition Input(RV-BLK), Homing deceleration switch Input (DEC), Latch Input1 (EXT1)
Output signal
Output: 3 points (Signal allocation can be changed)
Alarm Output (ALM-B), Driver ready completed Output (READY), Motor operating Output (MOVE)
Power supply
Main power supply
DC24V±10% or DC48V±10%
Power supply current capacity: 7.0A
Control power supply
DC24V±10%
Power supply current capacity 2-axis: 1.0A, 3-axis: 1.25A, 4-axis: 1.5A
Operating ambient temperature and humidity
Ambient temperature : 0 to+50°C (+32 to +122°F) (non-freezing)
Humidity: 85% or less (non-condensing)
MECHATROLINK specifications
M-Ⅲ
Profile
Standard Stepping Motor Drivers
Standard servo
Data size
32byte, 48byte
Transmission cycle
0.5ms to 4ms (increments of 0.5ms)
Contact Information
ORIENTAL MOTOR CO.,Ltd.
4-8-1 Higashiueno,Taito-ku,Tokyo 110-8536 Japan
TEL: +81-3-6744-0351 FAX: +81-3-5826-2575