Controller SGDS9-6CNCH2

Master Controller

Category:
(★)

MECHATROLINK Spec
Guangzhou LokShun CNC Equipment Ltd.,
CPU processing speed, support for floating-point operations and greatly enhance the movement interpolation calculation speed and accuracy.
System supports 5-axis control, 3-axis joint linking, it can conduct a variety of two-dimensional and three-dimensional complex processing.
Fast-moving axis 48m/min, control accuracy of 10um.
System, communication interface universal, using the network interface technology for the transmission of NC code, and through the network interface technology can facilitate the achievement of workshop equipment, unified management and on-line diagnostics
System supports the common memory (U disk, SD / CF cards) direct-reading function.
PLC control system support, user-friendly workshop to achieve automated production.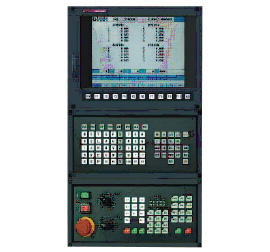 SGDS9-6CNCH2
Download
Specifications
| Item | Specifications |
| --- | --- |
| Control method | Motion control by MECHATROLINK-Ⅱ (Position, Velocity, Torque) |
| Number of control axis | 6-axis |
| Control Servo Drivers | MECHATROLINK-Ⅱ ; SGDS series, SGDH series+JUSP-NS115; SGDV series. |
| Minimum Control Unit | 0.00001, 0.000001, 0.0001 (unit: mm, inch, deg) |
| Interpolation | Linear, Circular, Helical, Thread Milling |
| Control Mode | Closed Loop Control, Using the serial high speed raster ruler for feed back. |
| G0 Rapid Feed Rate | 120m/min |
| G1 Cutting Feed Rate | 60m/min |
| Programme Transmission | USB, Ethernet |
| Display Unit | 12.1 inch TFT |
MECHATROLINK specifications
M-Ⅰ
M-Ⅱ
17-byte
17-byte
32-byte
Command
Servo
-
×
-
Stepping Motor Drivers
-
-
-
Intelligent I/O
-
-
-
Simple I/O
-
-
-
Inverter
-
-
-
Transmission cycle
0.25ms
Contact Information
Guangzhou LokShun CNC Equipment Ltd.,
No.16, dongxi road, xilang, Liwan District, Guanzhou. CHINA
TEL: +86-20-81617181