LNC-M600id System

Master Controller

Category:
(★)

MECHATROLINK Spec
Advantech-Lnc Technology CO., Ltd.
With Yaskawa MECHATROLINK-Ⅱ high speed configuration, LNC-M600id offers you high speed, easy wiring, broadband, and anti-noise intelligent processing functions for your machines to work on different materials.
Brand new LNC-M600id can use M-Ⅱ high speed line to connect with other relating devices, users can monitor and adjust servo parameters via controller screen, meanwhile users can also check each axes' alarm and loading.
Equipped with intelligent cutting functions, Users can optimize relating process parameters according to different materials, such as steel, aluminum, wood or copper. (acceleration/deceleration time, corner speed, servo gain, etc.)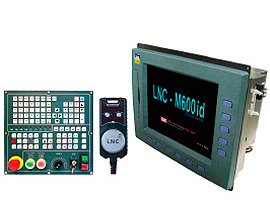 LNC-M600id
Download
Specifications
Item
Specifications
Monitor
10.4-inch TFT LCD
Memory / CF Card
64M Bytes / Industrial 64M Bytes or above
Control axes
4 Axes M-Ⅱ servo axes + 3 axes M-Ⅱ servo spindle /
4 Axes M-Ⅱ servo axes + 1 axis variable-frequency spindle or electric spindle
MPG
3 in 1 MPG
Standard I/O
20 INPUT / 16 OUTPUT
Expansion I/O
REMOTE 1/2 (Max. 256 INPUT / 256 OUTPUT)
Multi-blocks Look Ahead
600 Single Blocks
Serial Communication
RS-232C: 1 PORT
USB
Offer USB / CF Card Interface, hot plugging: 1 PORT
LAN
Ethernet: 1 PORT
OP
MDIOP-8500 (Also offer customized design type)
MECHATROLINK specifications
 
M-Ⅰ
M-Ⅱ
17-byte
17-byte
32-byte
Command
Servo
-
x
x
Stepping Motor Drivers
-
-
-
Intelligent I/O
-
-
-
Simple I/O
-
-
-
Inverter
-
-
-
Transmission cycle
3ms, 4ms
Contact Information
Advantech-Lnc Technology CO., Ltd.
Headquarters
40764 6F., No.633, Sec. 2, Taiwan Blvd., Xitun Dist., Taichung City 407, Taiwan (R.O.C.)
TEL: +886-4-24636889 FAX: +886-4-24635558
E-mail:Service@Advantech-Lnc.com.twURL:http://www.advantech-lnc.com/