CNC System

Master Controller

Category:
(★)

MECHATROLINK Spec
Shenyang Golding NC Tech. Co. Ltd.
GJ-210 is a high-performance CNC system, can be used to control lathe, miller and machining center:
Open architecture based on IPC
Congfigurable HMI with 10.4 inch TFT LCD, supporting realtime display of tool path
High-performance motion control function, supporting lookahead, multiple kinds of nonlinear compensation, etc
Embedded PLC, supporting debug ladder online
Standard ISO G code language, supporting parameters programming
Tool management functions, such as tool life, tool compensation and random ATC management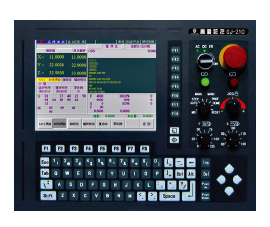 GJ-210
Download
Specifications
Item
Specifications
Control method
Motion control by MECHATROLINK-Ⅱ (Position)
Number of control axis
4 axes, maximum 5 axes
Control Servo Drivers
MECHATROLINK-Ⅱ ; SGDS series, SGDH series +JUSP-NS115
Unit (minimum control unit)
0.0001,0.0001 (unit: mm,deg)
Maximum command value
−2147483648 to 2147483647 pulses (signed 32-bit data) unlimited feed also possible
Motion program functions
Positioning, Liner Interpolation, Circular Interpolation, Zero point search, Time constance positioning, Line action, Electric gear, Following synchronization, Velocity command, Torque command, Small segment continuously processing function
Rapid traverse feed rate
1 to 2147483647 [command unit/min]
Interpolation traverse feed rate
1 to 2147483647 [command unit/min]
Override
0.00 to 327.67% (command unit0.01%, possible to set by axis or task)
Accel/Decel control
Accel, Decel tim: Maximum 60.000ms (trapezoid, exponential and S curve), S curve
Constance: Maximum 30.000ms
MECHATROLINK specifications
 
M-Ⅰ
M-Ⅱ
17-byte
17-byte
32-byte
Command
Servo
-
×
×
Stepping Motor Drivers
-
-
-
Intelligent I/O
-
-
-
Simple I/O
-
-
-
Inverter
-
-
-
Transmission cycle
2ms
1ms, 1.5ms, 2ms
Contact Information
Shenyang Golding NC Tech. Co. Ltd.
No.16, East Nanping Road, Hunnan High-tech. Industrial Development Zone, Shenyang, 110171 PRC
TEL: +86-24-2469-6018 FAX: +86-24-2469-6000