High Performance Vector Control AC Drive A1000

子站 变频驱动器

MECHATROLINK Spec
YASKAWA ELECTRIC CORPORATIONUpdated on:Apr 4, 2019
With decades of experience in just about every application, Yaskawa offers a High Performance Vector Control drive.
Motor Drive Performance Leading the Pack
Capable of driving any kind of motor for the most advanced drive technology.
The Drive for a Greener World
Combining the high efficiency of a synchronous motor along with A1000's Energy Saving control capabilities allows for unparalled energy saving.
Transforming the Application Installation with Unparalleled Performance
Yaskawa continues to make applications even smaller by combining the world's smallest drive in its class with a synchronous motor.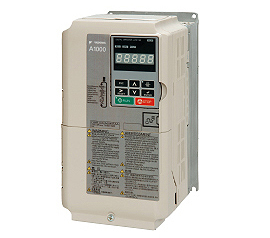 YASKAWA AC Drive
A1000
Download
Specifications
Item
Specifications
Power Supply
200 V (Three-Phase)
400 V (Three-Phase)
Capacity Range
0.4 kW to 110 kW
0.4 kW to 630 kW*
Control Method
V/f Control, V/f Control with PG, Open Loop Vector Control, Closed Loop Vector Control with PG, Open Loop Vector for PM, Advanced Open Loop Vector for PM, Closed Loop Vector for PM
Frequency Control Range
0.01 to 400 Hz
Overload Tolerance
Normal Duty Rating: 120% of rated output current for 60 s.
Heavy Duty Rating: 150% of rated output current for 60 s.
Accel/Decel Time
0.00 to 6000.0 s (4 selectable combinations of independent acceleration and deceleration settings)
Protection Functions
Motor Protection, Momentary Overcurrent Protection, Overload Protection, Overvoltage Protection, Undervoltage Protection, Ground Fault Protection...
Main Control Functions
Torque Control, Droop Control, Feed Forward Control, Zero Servo Control, Momentary Power Loss Ride-Thru, Speed Search, Auto-Tuning, Overexcitation Deceleration, High Slip Braking, PID Control, Energy Saving Control, DriveWorksEZ (customization software), Removable Terminal Block with Parameter Backup...
Interface
MECHATROLINK-Ⅱ (optional), RS-232C, RS422/485...
*: Some capacities not yet available
MECHATROLINK specifications
M-Ⅰ
M-Ⅱ
17-byte
17-byte
32-byte
Command
Inverter
×
×
×
Transmission
cycle
=Comm. Cycle
2ms
500μs to 8ms
1ms to 8ms
≠Comm. Cycle
2ms to 8ms
Contact Information
YASKAWA ELECTRIC CORPORATION
Contanct Yaskawa's Product and Technical Website "e-mechatronics.com".
e-mechatronics.com 
http://www.e-mechatronics.com/en/