Network Converter for Controlled Motors NETC01-M2

子站 步进电机驱动器

MECHATROLINK Spec
ORIENTAL MOTOR Co.,Ltd.Updated on:Jan 6, 2022
NETC01-M2 converts MECHATROLINK-Ⅱ communication protocol to RS-485 communication protocol.
With NETC01-M2, you can transparently control up to 16 of our RS-485 products by intelligent I/O commands from a MECHATROLINK-Ⅱ master.
In addition to stepping motors, wide variety of products such as sliders, cylinders, and blushless motors will be able to connect to NETC01-M2 in the future.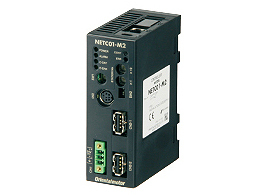 NETC01-M2
Download
Specifications
Item
Specifications
Baud Rate
10Mbps
Communication Cycle
0.5ms / 1.0ms / 1.5ms / 2.0ms / 2.5ms / 3.0ms / 3.5ms / 4.0ms / 8.0ms
Station Address
60h to 7Fh
Corresponding Profile
Intelligent I/O
RS-485 Communication Specification
Electric characteristics
In conformance with EIA-485
Baud Rate
625kbps
Physicallayer
Asynchronous mode (8 bits, 1 stop bit, no parity)
Protocol
GW Protocol Ver.2 (Open protocol established by ORIENTAL MOTOR Co.,Ltd.)
Connection pattern
16 units Max.
MECHATROLINK specifications
M-Ⅰ
M-Ⅱ
17-byte
17-byte
32-byte
Command
Intelligent I/O
×
×
×
Transmission cycle
2.0ms
0.5ms, 1.0ms, 1.5ms, 2.0ms, 2.5ms, 3.0ms, 3.5ms, 4.0ms, 8.0ms
Contact Information
ORIENTAL MOTOR CO.,Ltd.
4-8-1 Higashiueno,Taito-ku,Tokyo 110-8536 Japan
TEL: +81-3-6744-0351 FAX: +81-3-5826-2575