MECHATROLINK-Ⅰ/Ⅱ, Master Communication LSI JL-098B

周边设备 集成元件(ASIC等)

MECHATROLINK Spec
YASKAWA ELECTRIC CORPORATIONUpdated on:Apr 4, 2019
A product with MECHATROLINK-Ⅰ, Ⅱ can develop easily in the combination of this LSI and Host CPU.
Power supply voltage is a 3.3V single power supply.
RoHS-compliant.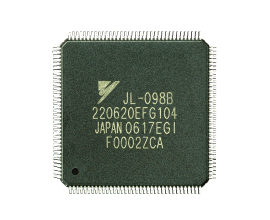 JL-098B
Download
Specifications
JL-098B
Item
Specifications
Model
TC220C620EFG104JDZ
Application
MECHATROLINK-Ⅰ, Ⅱ master use
Packing unit
300pcs
LSI dimensions
LQFP (Low Profile Quad FLAT Package) 144pins 20 × 20mm Body, pin interval 0.5mm
Attention
• To purchase this LSI, it is necessary to join the MECHATROLINK Members Association (MMA) with Board, Executive, Regular Membership.
Contact Information
Please access
YASKAWA website (Please click. Then you can access.)
YASKAWA has sales and after-sales service all around the world.
America: U.S.A., Brazil, Canada, Mexico
Asia Pacific: China, Korea, Taiwan, Singapore, India
Europe: Germany, Sweden, Israel, Italy, France, Spain, Finland, Netherlands, Slovenia, Czech republic, Turkey