KVARA 6

主站 控制器

Category:
(★)

MECHATROLINK Spec
The "numerical control" is the very heart of the range of products offered by Esa/G.v. for automation purposes. It represents the cutting edge of Esa/G.v.'s pluriennal experience in various application sectors: it's the answer to the requirements of our present and future customers.
Various optionals can be added to its powerful and versatile basic structure in order to form the hardware and software composition that suits your particular needs.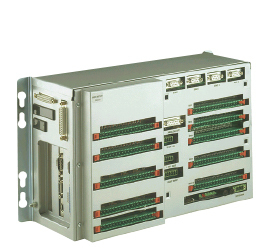 KVARA 6
Download
Specifications
Item
Specifications
Programmable logic controller
• PLC integrated in the CNC
• PLC programs stored on Flash memory
• Programming and debugging through a PC
• Symbolic, structured and parametric programming, links to C/C ++ functions
• Programmable scanning time, use of several PLCs in the same CNC
• Back-up and restore functions via USB or serial port
ISO interpreter
• ISO multichannel interpreter (max 32 channels)
• Standard ISO language
• Extended automation language
• Interpolation algorithm able to drive axes with different characteristics
• Electronic cammes, electrical shaft, gantry axes, cut on fly
• Jerk control and limitation, look-ahead, synchronized axes, on/off axes with and without inverter
• Hold, Repos, Retrace interactive functions available
• Overstore function to restore part program status after an Hold
• M, T, D and S functions customizable and linked to xed cycles
• Customizing of advanced trajectories generator (i.e. warp engine)
Development kit
• The development aids, as the simulation and debugging packages, can run on a PC
• Standard Esa/G.v. Software available; easy links to OEM Software
• Several graphic tools are available for customizing the Graphic User Interface
• Digital oscilloscope with 4 traces, log and capture functions
General specifications
• 24Vac/dc 100W max single-phase power supply
• Integrated PLC, ISO interpreter
• DNC capabilities, PLC and axes Watch-dog
Axes
• Standard 4 axes, max 6 axes; 5V or 12V incremental encoder inputs, single ended o line-driver, maximum input frequency 500Khz
• Analog +/−10V outputs for servos
• SERCOS, MECHATROLINK and CAN-BUS (canopen protocol) communication board
Inputs/Outputs
• 32 digital PNP optoinsulated inputs (24Vdc), protected against wrong connection
• 32 digital optoinsulated outputs (24Vdc 1A), protected against short circuit
• 2 analog inputs and 2 analog outputs (8 bits resolution)
• 4 fast digital inputs (via interrupt)
Communication ports
• 2 serial ports RS-232
• 1 USB 2.0 port
• Opticfiber fast communication port (optional)
• Panel Link to communicate with kvara B, BP, FPT240, FMC (optional)
• SERCOS, MECHATROLINK and CAN-BUS (canopen protocol) communication board
Options
• 2 axes board
• 32 + 32 digital inputs and outputs board
• 4 analog outputs, 8 analog inputs, 2 current outputs
• I/O ring communication board
• Optic fiber fast communication board
• SERCOS, MECHATROLINK and CAN-BUS (canopen protocol) communication board
• Silicon Disk (flash disk)
Contact Information
ESA/Gv s.r.l.
15 via Zamboni - c.p. 43 41011 Campogalliano MO - Italy
TEL: +39-059-851414 FAX: +39-059-851313
E-mail:info@esagv.itURL:http://www.esagv.it