AC Servo Drivers HA-680ML series

子站 伺服驱动器

MECHATROLINK Spec
Harmonic Drive Systems Inc.Updated on:Apr 4, 2019
Small and compact design
It is about half the size of a postcard, just the size of a card case. Its ultra-light design with a weight of 230 g is useful for small, space-saving devices.
Substantial functions
Position control, speed control, and torque control are provided as standard. It is compact and has substantial functions at the same time.
Easy function setting
Parameters can be set easily using dedicated communication software PSF-520.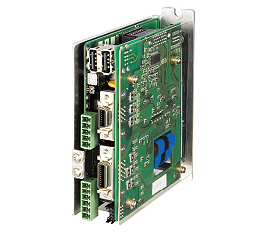 HA-680ML
Download
Specifications
Item
Specifications
MECHATROLINK
communications
Protocol
MECHATROLINK-Ⅱ
Node address setting
41H to 5FH (Max. number of slaves: 30)
Supply voltage
DC24V (20 to 28V)
Control method
Sinusoidal PWM control switching frequency 12.5kHz
Encoder
4-line specification, serial transmission method, line driver input
Encoder monitor
Phase-A, B, Z line driver output
I/O signal
DI: 5 points (insulation with photo coupler)
DO: 5 points (insulation with photo coupler)
Protection function
Overload, Max. deviation, Encoder break detection, encoder reception error, UVW error, regenerative error, operating temperature error, system error, overcurrent, load short circuit, memory error, overspeed
Regenerative absorption circuit
Incorporated (with an external capacitor/resistor installation terminal).
The built-in resistance has a fuse.
MECHATROLINK specifications
M-Ⅰ
M-Ⅱ
17-byte
17-byte
32-byte
Command
Servo
−
×
×
Transmission cycle
1ms, 2ms, 3ms, 4ms, 5ms
Contact Information
Harmonic Drive Systems Inc.
总公司
140-0013 东京都品川区南大井六丁目25番3号
TEL: +81-3-5471-7800 FAX: +81-3-5471-7811
海外事业本部
399-8305 长野县安昙野市穗高牧1856-1
TEL: +81-263-83-6935 FAX: +81-263-83-6901
穗高工厂
399-8305 长野县安昙野市穗高牧1856-1
TEL: +81-263-83-6800 FAX: +81-263-83-6901