RSI-2110 (MECHATROLINK-Ⅱ driver for INtime)

主站 控制器

Category:
(★★★)

MECHATROLINK Spec
RSI-2110 is a driver software for INtime (Real-time extension for Windows) of the motion controller (MP2110/MP2110M) made by YASKAWA.
MP2110/MP2110M are the motion controller built-in the PCI/Compact PCI bus of the host computer. It can control the drive equipment and the I/O equipment at high speed via MECHATROLINK-Ⅱ network.
Super-high precision and advanced high-speed motion control Controlling position, speed and torque with high accuracy of synchronization are capable with the MECHATROLINK-Ⅱ network. Online switching of control mode is available and complex machine behaviour can be realized.
Powerful motion-control functions
More than 40 of motion-control APIs in C language help users to create an application program.
Hight extendibility
MP2110 can control maximum 21 stations whereas MP2110M can do maximum 42. It is flexible to choose out the stations and decide how many axes to use for servo or I/O.
Work on INtime (Realtime OS)
By combination with INtime, a deterministic hard-realtime capability is capable on a personal computer system.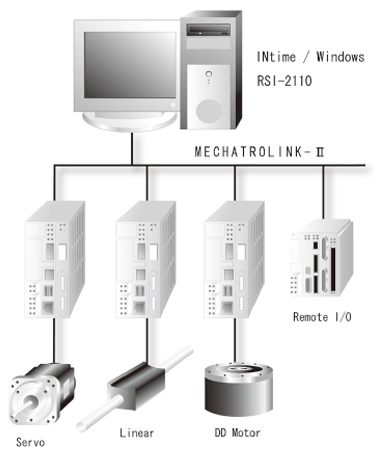 Download
Specifications
Item
Specifications
MP2110
MP2110M
FieldNetwork
MECHATROLINK-Ⅰ / MECHATROLINK-Ⅱ
Channels
1
2
Number of control axis
each 21 channels (Servo axis or I/O)
Control performance
Each cannnel
6 axes/0.5ms (Communication cycle)
15 axes/1ms (Communication cycle)
21 axes/2ms (Communication cycle)
Local DIO
Digital Input 5 channels, Digital Output 4 channels
Connectable equipment
Servo, Linear, DDmotor, Inverter, other various I/O
MECHATROLINK specifications
M-Ⅰ
M-Ⅱ
17-byte
17-byte
32-byte
Command
Servo
×
×
×
Stepping Motor Drivers
×
×
×
Intelligent I/O
×
×
×
Simple I/O
×
×
×
Inverter
×
×
×
Transmission cycle
2ms
0.5ms, 1ms, 2ms
Contact Information
Micronet Co.
Kochi Research & Development Center:
2-6-10, Hadaminami-Machi, Kochi City, Kochi (Zip 780-0026)
TEL: +81-88-854-3371 FAX: +81-88-854-3373
E-mail:bcd@mnc.co.jpURL:http://www.mnc.co.jp