AC Servo Drives Σ-X-Series Σ-XS Models with MECHATROLINK-4/III Communications References

Slave Servo Drive

MECHATROLINK Spec
YASKAWA ELECTRIC CORPORATIONUpdated on:Sep 28, 2023
Speed frequency response: 3.5 kHz (previously 3.1 kHz). Maximum motor rotation speed: 7000 min-1.
Standard equipped with a 26-bit high-resolution (approx. 67 million pulses per revolution) encoder to allow for high-precision microfabrication and path control.
Minimum transfer cycle: 31.25 μs (MECHATROLINK-4)
Load fluctuation compensation control reduces variations in settling time even when the load fluctuates to ensure stable operation.
Stable operation with loads up to 100 times that of a normal load is made possible with Yaskawa's proprietary tuning-less function.
With ∑-LINK II, motion and sensor data on the same time base can be collected, and changes in the equipment can be monitored to detect abnormalities.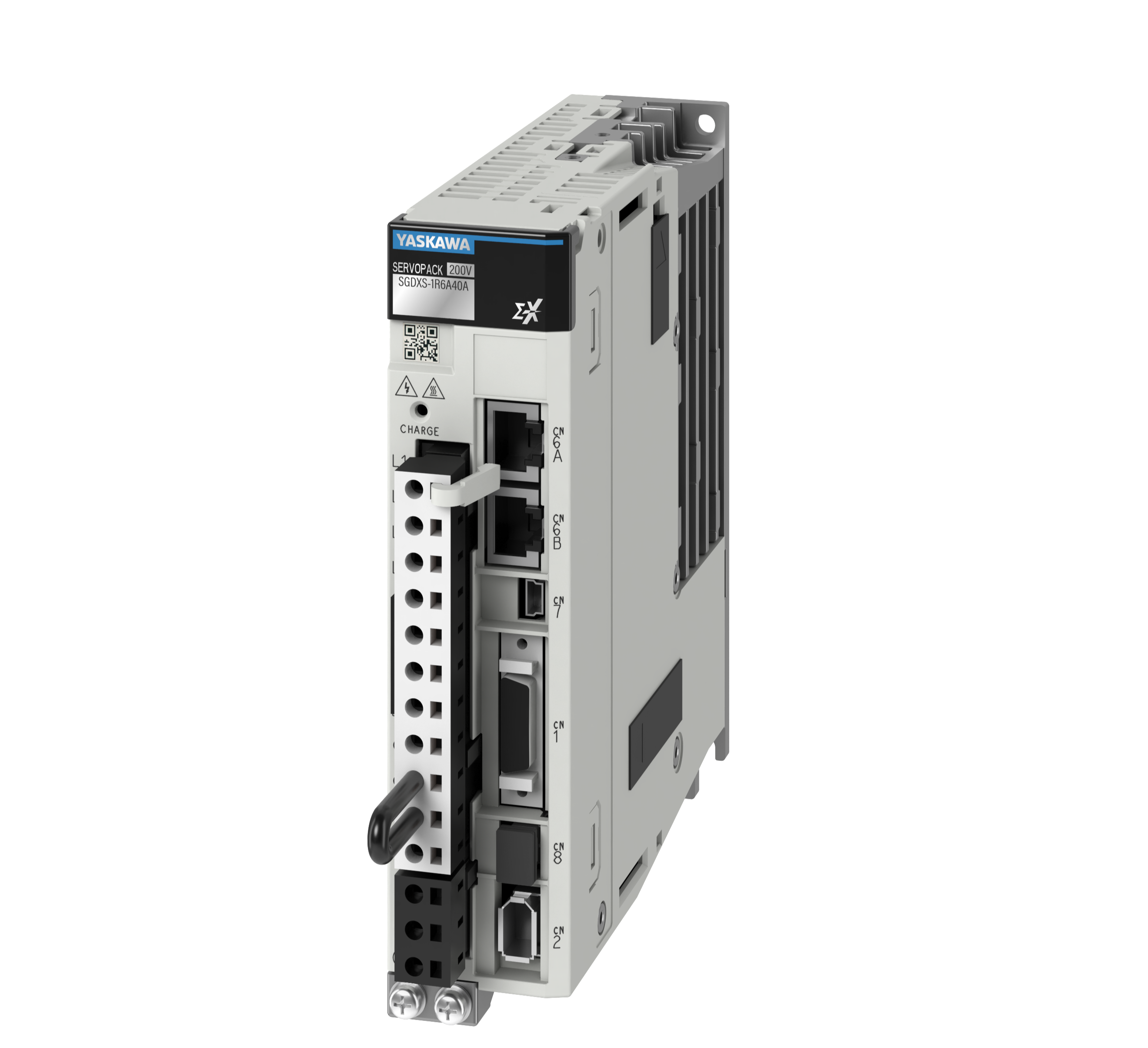 Σ-XS
Download
Specifications
Item
Specifications
Σ-XS (SGDXS) (Single Axis)
Performance
Speed frequency characteristics: 3.5 kHz
MECHATROLINK Communications
Operating Specifications
Position, speed, or torque control with MECHATROLINK-4/III communications
Reference Methods
MECHATROLINK-4/III commands (sequence, motion, data setting, data access, monitoring, adjustment, etc.)
Applicable Motor Capacity
11 W to 15 kW
Encoder Resolution
26 bits: Absolute encoder or batteryless absolute encoder (50 W to 15 kW)
20 bits: Absolute encoder (11 W to 33 W)
Input Signal
Channels
7 Channels. Each signal can be allocated and the positive and negative logic can be changed.
Functions
Forward drive prohibition, reverse drive prohibition, forward current limit, reverse current limit, external latch signal, origin return deceleration switch signal, forced stop
Output Signals
Channels
3 Channels. Each signal can be allocated and the positive and negative logic can be changed.
Functions
Positioning completion, speed coincidence detection, rotation detection, servo ready, torque limit detection, speed limit detection, holding brake, positioning near
Protective Functions
Overcurrent, overvoltage, undervoltage, overload, regeneration error, etc.
Additional Functions with Option Modules
Fully-closed modules
Standards
UL standards, CE Marking (EMC Directive, Low Voltage Directive), RoHS Directive, safety standards, KC Mark
Safety Functions
Applicable Standards
ISO13849-1 PLe (Category 3) and IEC61508 SIL3
Input: /HWBB1 and /HWBB2: Base block signals for power modules.
Output: EDM1: Monitors the status of built-in safety circuit (fixed output)
SERVOPACK Installation
Base-mounted installation (optional rack-mounted models are available)
MECHATROLINK specifications
 
M-4
M-Ⅲ
16~80 byte
32, 48 byte
Number of Transmission Bytes
Servo
○
○
Transmission Cycle
0.0625 ms to 4 ms
0.125 ms to 4 ms
Contact Information
Please access
YASKAWA website (Please click. Then you can access.)
YASKAWA has sales and after-sales service all around the world.
America: U.S.A., Brazil, Canada, Mexico
Asia Pacific: China, Korea, Taiwan, Singapore, India
Europe: Germany, Sweden, Israel, Italy, France, Spain, Finland, Netherlands, Slovenia, Czech republic, Turkey