AC servo system SV2 Series

子站 伺服驱动器

MECHATROLINK Spec
KEYENCE CORPORATIONUpdated on:Apr 4, 2019
Response delays for commands can be reduced to the utmost by speed response frequency of 2.6 kHz.
Synchronization of communication cycles (125 μs) with the host controller make high-speed, high accuracy operation possible.
Due to significantly higher accuracy with 22-bit encoder resolution
Incorporated analog feedback function to ensure the load applied to the work-piece coincides with the target value.
The 2-stage notch filter is automatically configured, and manually notch filter configurable up to 5-stage.
Complies with IEC 61800-5-2 (STO), ISO 13849-1 (PLe), and IEC 61508 (SIL3).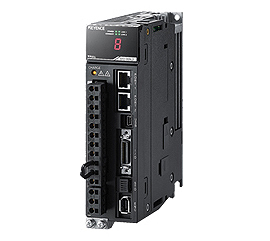 SV2 Series
Download
Specifications
Item
Specifications
MECHATROLINK-Ⅲ communication
Operating specifications
Position control / speed control / torque control via MECHATROLINK-Ⅲ
Command input
MECHATROLINK-Ⅲ command (sequence, motion, monitor, adjustment, etc.)
Compatible motor capacity
50W to 5kW
Performance
Speed frequency response frequency: 2.6kHz, Torque control accuracy (reproducibility:±1%)
Encoder resolution
22bit (Absolute type)
Input signal
Number of inputs
7 (3 high-speed input, 4 general input)
Function
Forced stop (FSTOP), external latch signals 1 to 3 (EXT1, EXT2, EXT3), origin return deceleration switch (DEC), forward limit switch (LSP), reverse limit switch (LSN), forward torque limit selection (PTL), reverse torque limit selection (NTL)
*Full signal assignment, logic-settable
Output signal
Number of outputs
4
Function
Alarm (ALARM), in position (INPOS), speed matching (VCMP), zero speed detection (ZSP), operation preparation complete (RDY), torque limiting (TLM), speed limiting (VLM), electromagnetic brake timing (BRAKE), warning (WARN), Positioning proximity (NEAR)
*Individual signal assignment excluding ALARM signal, logic-settable alarm
Analogue feedback function
Max. input voltage: ±12V, Accuracy: ±1% of F.S. , Resolution: ±12bit
Available option function
Fully closed control (When using fully closed module)
Safety function
IEC61800-5-2(STO), ISO13849-1(PLe), IEC61508(SIL3)
Input: Base block signal for power module
Output: Built-in safety circuit status monitoring
MECHATROLINK specifications
| | M-Ⅲ |
| --- | --- |
| Profile | Standard servo |
| Data size | 32byte, 48byte |
| Transmission cycle | 125µs, 250µs, 500µs, 750µs, 1ms to 4ms (in 0.5ms unit) |
Contact Information
KEYENCE CORPORATION
1-3-14, Higashinakajima Higashiyodogawa-ku, Osaka 533-8555, Japan
TEL: +81-+6-6379-1271 FAX: +81-6-6379-1270
E-mail:seigyo-qa@keyence.co.jpURL:http://www.keyence.co.jp