AC Servo Drivers HA-800B series

子站 伺服驱动器

MECHATROLINK Spec
Harmonic Drive Systems Inc.Updated on:Apr 4, 2019
Shorter positioning stabilization time using original control logic
By utilizing the characteristics of HarmonicDrive in the control logic, positioning overshoot and undershoot are suppressed and the positioning stabilization time is reduced significantly.
Adopting an I/O signal function assignment method Desired functions can be selected from a wide range of functions and assigned to I/O signals according to specific applications.
Also, multiple functions can be assigned to a single input terminal for an input signal, which adds to usability.
Auto-tuning function
The auto-tuning function allows the driver to estimate the load and automatically set an appropriate servo gain on the test mode.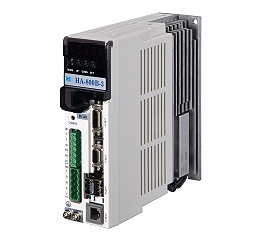 HA-800B series
Download
Specifications
Item
Specifications
MECHATROLINK
Profile
MECHATROLINK-Ⅱ
Address
41H to 5FH
Input Voltage
Control
AC100V to 115V (Single phase) or AC200V to 230V (Single phase) +10 to −15%
Control
AC100V to 115V (Single/Three phase) or AC200V to 230V (Single/Three phase) +10 to −15% (By the actuator)
Control method
Sine wave PWM
Encoder
Lesswire incremental, 14wire incremental, 13bitAbsolute, 17bitAbsolute
Encoder monitor
A, B, Z line driver output
I/O signal
IN:5 OUT:4 Insulation by photo coupler
Security function
Alarm
Emergency stop, overspeed, overload, IPM error (overcurrent), Encoder error, Over posittion, Memory error, FPGA error
Warning
Battery voltage Low, Over Load, FAN stop, Main Power voltage Low, MECHATROLINK command data error, MECHATROLINK command error, Comunication error, Forward stop, Reverse stop
Control mode
Position, Speed, Trqu (By the MECHATROLINK)
MECHATROLINK specifications
M-Ⅰ
M-Ⅱ
17-byte
17-byte
32-byte
Command
Servo
-
×
×
Transmission cycle
1ms, 1.5ms, 2ms, 3ms, 4ms, 5ms
Contact Information
Harmonic Drive Systems Inc.
总公司
140-0013 东京都品川区南大井六丁目25番3号
TEL: +81-3-5471-7800 FAX: +81-3-5471-7811
海外事业本部
399-8305 长野县安昙野市穗高牧1856-1
TEL: +81-263-83-6935 FAX: +81-263-83-6901
穗高工厂
399-8305 长野县安昙野市穗高牧1856-1
TEL: +81-263-83-6800 FAX: +81-263-83-6901